---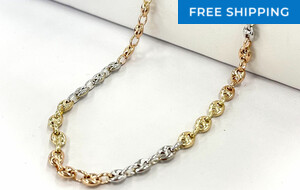 Lock & Clasp
Stun 'Em in 14K & 18K Gold
What It Is: Think classic 14K & 18K gold bling and rings with cubic zirconia to give it something extra. Whether you go for something simple, or splash out on something bold, this collection can bring both.
Why You Need It: You're not afraid to stand out with bold accessories that add a killer finishing touch, and we're here for it.
Sale Ended
The sale has ended for this item, but check out our other amazing sales.